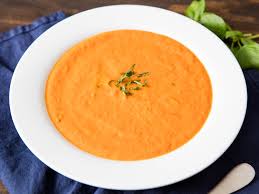 The air is getting crisper, and Sukkos is in the air – a time to share lots of warm and comforting foods outdoors with family and friends while memories are being made. May you all enjoy your friends and family and have a year filled with brachos and simchas.
Split Pea with Brisket
I love this soup. The first time I ever came across meat in a split pea soup, I was in heaven. The combination of meat chunks and soft split peas makes a party in my mouth that continues down to my stomach and leaves me feeling satisfied and warm. If anyone knows where this dish originated, I'm interested. Let me know.
2 T. canola oil
2 c. diced brisket (in 1/2- to 1-inch cubes)
1 onion, peeled and diced
1 large carrot, diced
2 tsp. minced garlic
2 1/2 tsp. salt
1/4 tsp. pepper
1 bay leaf
2 potatoes, peeled and diced
1 1/2 c. split peas (sorted and rinsed)
2 qt. stock (vegetable, chicken, or meat)
Fresh sprigs of parsley
In a 4-quart soup pot, heat the oil. Sauté brisket, onion, and carrots for 5 to 10 minutes until onions are translucent and starting to caramelize. Add garlic, salt, pepper, bay leaf, potatoes, and split peas. Stir to coat with the oil and sauté for about 1 minute. (This will give your soup a "nuttier" flavor.) Add stock and bring to a boil. Lower heat, cover lightly, and simmer for an hour to two, stirring occasionally. When the split peas are soft, and disintegrating, the soup is done. (After an hour, the split peas will most likely still retain their shape, so you can decide what consistency you want your soup and take it off the heat when you're ready.) Serve with fresh parsley.
Pastrami Quiche
This yummy recipe yields 1 large quiche or 24 mini-quiches.
1 deep-dish pie shell or 24 mini-pie shells
1 lb. pastrami, cubed
1 large onion, cut into half-moon rings
2 tsp. garlic, minced
3 large eggs
1 c. almond milk (or other parve milk without sugar)
1 tsp. salt
1/4 tsp. pepper
3 T. canola oil
Preheat to 350° F. Heat oil until hot and sauté the pastrami until it starts to brown. Set aside. Add onions to the hot oil and sauté for about 5 minutes or until onions start to caramelize. Add garlic for about 1 minute until soft. Add salt and pepper. Set aside to cool.
If your pie shell needs to be pre-baked, bake it for 5 to 10 minutes. Place pastrami and onion mixture at the bottom of the pie shell(s). Mix together eggs and almond milk and pour over the meat mixture. Bake for 45 minutes or until the eggs are set.
Stuffed Cabbage
I love stuffed sweet and sour cabbage. I find the cabbage itself to taste sweet after soaking in the sauce for 2 hours. This dish reminds me of my grandmother whose mother came from Galitzia. Traditionally, these could be eaten with pierogies, kasha and potatoes. Here, I've paired them here with a roasted beet salad. I hesitated whether or not to include the raisins in this recipe - they do give a nice flavor to the sauce, even if I might not actually eat them.
1 large head cabbage
Filling
1 1/2 lb. ground beef
1/2 c. uncooked rice
1 T. oil
1 medium onion, diced small
2 cloves garlic, minced
1 egg, beaten
Sauce
3 T. oil
1 large onion, peeled and diced
1 35-oz. can chopped tomatoes
2 T. cornstarch (or flour)
1/4 c. lemon juice (juice from 1 lemon)
2 T. tomato paste
1 c. brown sugar (or honey)
2 bay leaves
2 tsp salt, divided
3/4 tsp. pepper, divided
1 large apple, peeled, cored and diced
1/4 c. raisins (optional)
Prepare cabbage by either boiling or freezing method: Cut out hard core of cabbage. Then, either freeze (and defrost) the cabbage or boil for 3 to 5 minutes. (You could even – gasp – microwave the head of cabbage.) The goal is to make the cabbage leaves soft and pliable. Check leaves for bugs.
To make filling, combine all ingredients in a bowl and mix well. Hold 1 cabbage leaf at a time and, using it like a burrito or a wonton, place it in front of you. (If your leaf is still tough, you can trim the outer central vein to make it thinner.)
Pre-heat oven to 350° F. Put about 1 heaping tablespoon of filling in the center bottom of the leaf. Fold the left and right side over the filling and roll the cabbage from the bottom to close. Place the cabbage rolls in your pan (9x13 foil ones are easy) seam side down.
Make sauce: Heat oil in 2-quart pot, and sauté onions. Stir lemon juice into the cornstarch, making sure all lumps are dissolved. Stir into the rest of the sauce ingredients, and add the mixture to the pot. Bring to boil and simmer for 5 minutes. Pour the mixture on top of the cabbage rolls slowly (so it doesn't splash out). Cover and bake for 2 hours, adding more water if necessary. Yields about 18 cabbage rolls.
Zoodled Beet Salad
I got a zoodler, okay? "A what?" you ask. It's a contraption you use to make noodles out of vegetables. I first bought this tool five years ago for Pesach, in my quest to have enough side dishes. Since then, I've been hooked. You can zoodle zucchini and carrots and other vegetable. You can sauté the zoodles with onions and spaghetti sauce for a yummy and healthy dinner. Or zoodle some fun salads. Zoodles can be eaten raw, boiled, roasted, sautéed, (shhh! Fried), and more. Here, I've roasted the beets after they were spiralized. This keeps the flavor, nutrition, and color mostly intact. After adding some herbs, you will have a gorgeous, aromatic salad.
2 beets, peeled
1/2 c. lightly roasted pecans
1/2 tsp. salt
1 T. sugar (or honey)
1 T. olive oil
1 T. lemon juice
2 tsp. Dijon mustard
1/2 T. fresh minced parsley
1/2 T. fresh minced dill
1/4 tsp. pepper
Preheat to 400° F. Spiralize beets. Place on Pam-sprayed cooking sheet and sprinkle with salt. Bake for 5 minutes (or, if you want them softer, longer). Remove from oven and place in bowl. Meanwhile, in a small bowl, mix the dressing ingredients and add the pecans. Toss the beets with the dressing and serve immediately. Or cool it down and then serve. Add more salt if needed. Serves 6.
Bracha Shor is the owner and executive chef of Sweet and Good Catering. Her email is bshor@sweetandgoodcatering.com. Questions and comments are welcome.