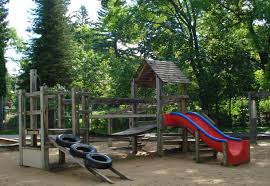 Now that school is closed for the next two-and-a-half months, families face the familiar dilemma of how to keep the kids entertained. The Where What When spoke to some mothers to hear about places close to our neighborhood – and some a little further out – that were a hit with their families. Somehow, hearing about a place from a fellow mother is more useful than reading about it in a guidebook or online. And often, you don't have to travel far to find a kid-friendly place to go. In fact, it might be right here in our neighborhood.
* * *
Natali, whose children are under 10, spoke about her children's favorite places, which are very close to home. "We love to go to the Irvine Nature Center or to Cylburn Arboretum," she says. "They are like a secret in our own backyard. You don't have to pay an entrance fee in either place. The children can explore the grounds, run on the trials, climb fallen trees, and collect frogs. They can't take the frogs home, but it is fun to catch them. The Irvine has an indoor nature center with interesting exhibits. One of them is a real bee hive where you can see the bees actually making honey.
Cylburn is beautiful and peaceful, with a lot of open grassy fields and many small gardens demonstrating plants that can flourish in various environments, like shady or sunny, as well as plants that resist deer or draw birds and butterflies. A unique plant at Cylburn closes its leaves if you touch it. Children are intrigued by the Garden of the Senses, where you can smell the scented plants and culinary herbs. The Cylburn Nature Center contains collections of butterflies and moths, birds and eggs, rocks and minerals, fossils and seashells, games and habitat dioramas.
* * *
Tamar, whose children are also under 10, spoke about the wonderful activities provided by the library. "You have to be very organized," she says, by checking out what activities are available and registering in advance, because the programs fill up quickly. But there are many good programs, and they are also free."
I just checked the Baltimore County website and found that Tamar is right. At the Pikesville branch, I saw such activities as a magic show, creating a motorized robot, paper cutting, and a science lab, where the participants will learn to build a protective device that will stop an egg from cracking when dropped. These are only a few of programs in only one library branch! [See, also, Barbara Salit-Mischel's detailed article on library activities, in this issue.]
* * *
Ruth, whose children range in age from eight to one-year-old, enjoys going to Baugher's Orchards and Farms, in Westminster, to pick fruit. "It is always good to call beforehand and make sure they are open and what fruits or vegetables are in season on the day you want to go," she says. "They give you a tractor ride to the fields, which is fun in itself. Peaches and apples grow on low trees that are easy to reach, and ladders are available to climb the trees and pick cherries." Ruth cautions, "If you bring a lot of children, be aware of how much they are picking. Otherwise you might come home with more fruit than you can use." Ruth's children like animals, so they especially enjoy the petting zoo.
Ruth also enjoys the Owings Mills JCC playground. "On the hottest day of the summer, that park is cool because of the tremendous amount of shade. It is open to the public; you do not have to be a member of the JCC to play there. It is nice to go in the evening and bring along a picnic supper. The zip line is a lot of fun, and there are also lots of equipment for the children to climb and benches for the parents to sit on."
* * *
Michal, whose children range in age from little ones through teenagers, has discovered a number of enjoyable parks. She told me about three of them. Watkins Regional Park, in Upper Marlboro, Maryland, has a beautiful new Wizard of Oz-themed playground with many innovative climbing activities. You can also see farm animals at Old Maryland Farm. There are lots of open fields for family ball games. "Our extended family went there recently on Chol Hamoed," says Michal, "and all our children enjoyed it, from the older teenagers through the babies."
Bladensburg Waterfront Park, in Bladensburg, Maryland, is small, with a small playground, but the exciting part is that is next to the Anacostia River. You can rent bikes for a very reasonable price and ride them along the water. You can rent a private pontoon with a guide. Canoes, kayaks, paddle boats, and row boats are available as well. "My children enjoyed the pontoon ride down the river with the guide, who pointed out all the interesting sights, such as turtles sunning on the rocks.
"The best part of the Cromwell Valley Park is the stream hiking," continues Michal. "The stream is perfectly clear, not muddy and dirty at all, and a trail next to the stream allows adults to walk and push a stroller without getting wet. There is also a nature center. Once, we were able to get a private guide, who took us on a stream hike and showed my children what to look for in the stream."
Michal also mentions Magic Elm Skateland, a roller skating rink in Hanover, Pennsylvania. "Even though it is quite far from the Park Heights area, we think it is worthwhile going, because it is usually almost empty. They sometimes even allow us to bring in our own music. They have a program on Wednesdays called Wacky Wednesday. On those days, you can get free admission if you bring in something. For example, this week you can skate for free if you bring in two paper towel rolls."
* * *
"My children love to go to Annie's Playground in Fallston, Maryland," says Miriam, a mother of three children, ranging in age from four to nine. It is a huge playground with lots of tunnels and amazing slides and climbing structures and it is fenced, so you don't have to worry about your children wandering off.
* * *
Judy raved about the Turkey Hill Experience in Lancaster County, Pennsylvania. "My children had a great time at this place," Judy says, "and all the products sold there are kosher certified." At Turkey Hill, children can learn how ice cream is made, sit in a milk truck, and milk mechanical cows. They can also create their own virtual ice cream flavor, ice cream container, and TV commercial. And at the Turkey Hill Taste Lab, the newest attraction, they can make their own pint of ice cream! Tours provide free samples of ice cream and tea products! Tickets are $9.95 for adults and $8.95 for children. Reservations are necessary for the Taste Lab. Check the website or call 844-847-4884.
* * *
Shira says, "If you are up for traveling beyond Baltimore, Virginia Safari Park, about a three-and-a-half-hour drive from here, has many really interesting and enjoyable activities," says Shira. "There is petting zoo with goats, sheep, etc., a bird feeding area, a regular zoo, a place to feed giraffes, and a drive-by safari. You can spend as long as you want in the safari. You buy buckets of food and feed the animals – which include zebra, moose, and gazelle – through the open window of your car."
On the way back from the Safari Park, Shira's family stopped in the Shenandoah National Park, which includes Skyline Drive. This famous road along the spine of the Blue Ridge Mountains encompasses beautiful panoramas of the Shenandoah Valley from overlooks that dot the route. You can get out of the car and enjoy the gorgeous views, and you can sometimes see bears, deer, and wild turkeys crossing the road. The park is closer to Baltimore than the Safari, which breaks up the long drive.
Speaking to these mothers and learning about these exciting parks and activities made me feel like renting some children to explore Maryland and the surrounding states. After all, you can hardly build a robot, or visit a playground, nature center, or skating rink with a child or 10 to take along!