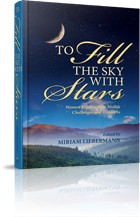 Miriam Liebermann's writing career started inadvertently, 22 years ago, when she devoured Sarah Shapiro's anthology, Our Lives II. "The introduction to this book changed my life," recalls Miriam, author of the new book, To Fill the Sky with Stars, an anthology of stories by and for women in midlife and beyond.
"Sarah discusses the art of writing, which she claims is actually a form of hakaras hatov, a vehicle through which we can show appreciation for our daily lives. Why is that? Those who write are much more aware of all the nuances of their lives. Always on the lookout for material to write about, nothing escapes them. Their senses are keener. Their antennas are always on alert! The details take on more significance. And as a result, their lives become much richer, much fuller. I read this and thought, 'Sarah's talking to me!' I wanted my life to be as rich as possible, as full, as meaningful. I began to write short vignettes revolving around my childhood, my family, and my hopes and dreams for the future, which were published in Targum's Horizons magazine. I started to write, and, baruch Hashem, have never stopped."
The inspiration Miriam received from Sarah Shapiro, the founding mother of Jewish women's anthologies, led her to author her first book, The Best Is Yet to Be, a collection of stories from an eclectic group of wise, insightful women, including rebbetzins, therapists, mentors, and friends, discussing challenges and triumphs as their nests were emptying. "When Targum approached me to do another book, this time for middle-aged women, I responded, 'Thanks but no thanks!' recalls Miriam. "I was trying to marry off two children then and was totally distracted. Several years later, I was approached again. Baruch Hashem, both those children were happily married, and I responded with a resounding, 'Yes, thank you. I'd love to do so!!' I was turning 50 at the time. There was so much going on in my life; our children were marrying and leaving home, my beloved mother, a"h, was very ill and needy at the time, and there was minimal emotional support forthcoming. I realized that there is a great deal written about marriage and raising children, there was nothing for the next chapter.
"The two books, The Best is Yet to Be and To Fill the Sky with Stars, cover topics relevant to women in the transitional stages," explains Miriam. "Everything we're going through is in there. You read the book and you find yourself. You also find much needed validation, encouragement, and practical advice. Whatever I'm going through, someone's been there and done that already. Why should I struggle on my own? We've created a sisterhood within the covers of these books. The books encourage women to grow spiritually and emotionally. Being that they are anthologies, they contain different viewpoints and expose us to different vistas and varying voices."
The chapter titles of To Fill the Sky With Stars, indicate the range of topics covered. They are Launching our Young Adults (including a discussion on dealing with a divorced daughter); Honoring our Parents; Furnishing the Empty Nest (focusing on our marriages); Embracing New Roles; Connecting with a Higher Dimension (spiritual growth); Refining our Tools; Expanding our Horizons; High Maintenance (physical health); The Final Journey; and Alone but Not Lonely.
Contributing authors include Dr. Miriam Adahan, Chani Feldbrand, Reb. Sara Feldbrand, Reb Sarah Finkel, Hinde Gordon, Debbie Greenblatt, Miriam Greenwald, Yita Halberstam Mandelbaum, Reb Feige Horowitz, Chani Juravel, LCSW, Sterna Lehrman, LCSW, Malkie Schulman, Sarah Shapiro, and Malkie Treitel.
In her essay, former Baltimorean (and, as she would say, "forever Baltimorean"), author and speaker Rebecca Bram Feldbaum, shares her experience of widowhood. (See sidebar.) She is just one of more than 60 women's voices featured in To Fill the Sky with Stars, which includes both prose and poetry. While the books are written for women in the middle years, women of all ages, as well as men, are reading them and finding them valuable.
"Young women now understand what their mothers and mothers-in-law are going through, and this new perception impacts their relationship positively," notes Miriam. "Additionally, they learn to properly appreciate, even cherish, each chapter of their lives. Husbands understand their wives. Sons-in-law have shared with me how valuable these books are in enabling them to relate to their mothers-in-law! Grandchildren gain precious insight into the lives of their grandmothers. I even know of a Rosh Yeshiva who read this book from cover to cover!
"These anthologies encourage women to grow spiritually and emotionally," concludes Miriam. "Accessing the wisdom within enables us to plan for the years ahead, anticipating changes and the accompanying growth process. If we fail to plan, we plan to fail. We need to be proactive, and we need to be there for one another. But we're not done yet. I'm already working on the next book – there are still major topics begging to be discussed and much growth and joy up ahead, be'ezras Hashem Yisbarach!"
© Margie Pensak-2015
Sidebar
The Decision That Defined My Life
by Rebecca Feldbaum
There are days that stand out in our life. Days that will always be remembered as a "turning point" in our life…. I had one of those days…almost 20 years ago when I was in my 30s. That day had a bittersweet significance to me for many reasons. It was clearly a day that was one of the saddest in my life, yet it was also a day that I truly made the most important decision in my life….
I clearly remember standing at the levayah (funeral) as the mais (body) was being taken away for burial. Walking slowly behind the mais, holding tightly to the hands of a close friend and my sister-in-law, I consciously said to myself in a low voice, "I am going to have a happy life. I am going to be a happy person. I am going to raise my children in a happy home. I am going to live life to the fullest no matter how hard it will be." I knew this is what Dovid wanted for me and our children, and I felt that verbally saying it would leave a lasting impression on me to carry out his wishes (and mine) for our family.
I truly feel that I was imbued, through the immense sorrow I was experiencing, with an overwhelming sense of strength that could only have come from Hashem (G-d) – the new Av Hayisomin of my children. From deep in my soul, He helped me connect to an inner strength inside me that I truly had never seriously tapped into before. I desperately needed that spring of life, of hope, to be open for any future happiness that would come my way.
When you make a concentrated effort to try and focus on the good in your life, it has a powerful effect on you. But the key is to give yourself a chance to be happy again. Looking for ways, in some sort of creative outlet, to make your life better will many times have a boomerang effect, and when you least expect it, the good will come back to you!
...I can honestly say that widowhood did not define me…I defined widowhood! The image I wanted people to see of me and my children was one of simcha. That was so hard to maintain, and I didn't always succeed, but I certainly did try! I must say, my incredibly supportive team of family and friends stood by my side every step of the way.
When I look at my children today, my heart overflows with gratitude to Hashem at how they have all grown into such lovely young men and women. It seemed like I just blinked and all the pieces of the puzzle in my life just suddenly fit into place. Now, surrounded by my children and grandchildren, the good attitude I tried to have about life seems to have finally paid off. Of course, there are always life challenges that continue to come on a daily basis, but the nachas (joy) I get from my progeny really seems to take precedence over everything.
Keeping up my happiness mantra through the years has added so much more to my life than I could ever have dreamed possible! After so many years of being alone, I am now happily remarried to a very special man. As an added bonus, my husband comes with a wonderful family. I felt that I never gave up looking for the good that Hashem had in store for me…and He led me to it."