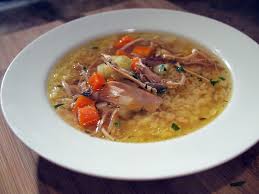 There's a cute joke on the website, Harry Leichter's Jewish Humor: "If Microsoft were Jewish, computer viruses could be cured with chicken soup."What better way to introduce this iconic and venerated Jewish food, long hailed as the panacea for whatever ails us. It's not clear who coined the term "Jewish penicillin" for chicken soup back in the last century, but the name has stuck. Many of us will be enjoying a steamy bowl of chicken soup, perhaps with kreplach or kneidlach, during the upcoming holidays. And of course, many enjoy this treat each and every Shabbos. It is satisfying and soul-warming – the quintessential Jewish comfort food. Moreover, it doesn't take a million-dollar grant from the National Institutes of Health to prove that chicken soup is indeed healthy.
Indeed, not just bubbies, but many doctors in the U.S. have been recommending chicken soup for years, mainly for colds and other upper respiratory infections. And for good reason: There's some science and serious medical thought behind the folklore. In his book On the Cause of Symptoms, Maimonides recommended chicken broth as a remedy for malnutrition, asthma, and leprosy.
The modern scientific literature on chicken soup goes back to at least the 1970s, although it appears some articles were published tongue-in-cheek. In 1975, an article in the journal Chest discussed a case "in which a previously healthy individual, having received an inadequate course of chicken soup in treatment of mild…pneumonia, experienced a severe relapse." The article goes on to review the "pharmacology of chicken soup and the dangers of abrupt termination of therapy."
It turns out this piece, by Drs. Nancy Caroline and Harold Schwartz, was a bit of Purim shtick, although it was published in February. (Maybe Purim was early that year!). They wrote, facetiously, "The therapeutic efficacy of chicken soup was first discovered several thousand years ago, when an epidemic highly fatal to young Egyptian males seemed not to affect an ethnic minority residing in the same area." The real giveaway is their referring to the pharmacological name of chicken soup as "Bohbymycetin."
Jane Kinderlehrer, in her 1980s classic, Cooking Kosher: The Natural Way, cites a study done in 1978 at Mount Sinai Medical Center in Miami Beach. (Where better to study chicken soup? Maybe they found subjects out on the boardwalk.) The study found that chicken soup cleared nasal passages better than hot water alone. That didn't prove there was anything unique about chicken soup – perhaps any broth would have worked as well – but subsequent studies have in fact identified particular factors that could explain the effect.
In 2000, Dr. Stephen Rennard, a pulmonologist at the University of Nebraska, published a study in which he analyzed chicken soup in the lab. He found it had anti-inflammatory properties that curbed mucous production. The researchers, however, were not able to identify the specific compounds in the soup that affected white blood cells. Interestingly, both the chicken in the soup and the various vegetables in the researchers' recipe – onions, sweet potatoes, parsnips, turnips, carrots, celery, parsley – showed the ability to inhibit the movement of the immune cells into the lungs, where they tend to congregate during a viral infection. These cells, called neutrophils, are effective against bacterial but not viral infections, so their presence just contributes to congestion.
So there you have it: Bubby may not have known what a neutrophil was, but one could argue that her chicken soup was just what the doctor ordered.
Below are a few of my favorite recipes for chicken soup. I hope you are able to enjoy them in perfect health this season and all year-round!
Classic Chicken Soup
Here's a recipe adapted from the ultimate Jewish food guide, Spice and Spirit: The Complete Kosher Jewish Cookbook.
3- to 5-pound chicken, quartered, or equivalent in chicken thighs and/or legs
12 c. water
3 carrots, diced
1 celery stalk, diced
1 to 2 parsnips, diced
1 onion, diced
1 tsp. to 1 T. sea salt
1/2 tsp. pepper or Mrs. Dash Table Blend
Optional:
1 parsley root or 4 frozen cubes
1 clove garlic or 2 frozen cubes
1 cube of frozen dill or several sprigs fresh or 1 T. dried
1 medium sweet potato, diced
1 zucchini, diced
Clean chicken or pieces. Fill an 8-quart with 12 cups water. Bring to a boil. Place chicken and diced vegetables in pot. Add salt and pepper. Add optional ingredients. Simmer covered, for 2 hours. Serve hot.
Vegetarian Chicken Soup
For those vegetarians out there, or even those who are just looking for a great parve soup, here's a meatless version from another classic cookbook, Laurel's Kitchen. If may not have the exact nutritional qualities as the real thing but is still quite a healthy soup in its own right. It starts with a split pea broth as the base.
Golden Broth:
1 medium onion, chopped
1 clove of garlic (equivalent to about 1/8 tsp. garlic powder, but feel free to add more to taste)
1/2 c. yellow split peas
1 T. oil
1/2 tsp. turmeric
1 quarts hot water
Sauté onion, garlic, and split peas in oil until lightly browned. Stir in turmeric and add water. Simmer for at least a half hour. For a thinner stock, strain after simmering. For a thicker one, puree.
"Chicken" Soup
2 quarts Golden Broth
large handful ribbon noodles (preferably whole grain)
1 cup each of diced celery, potatoes, and carrots
1 tsp. sea salt
1/2 cup finely chopped parsley
Bring broth to a boil in a large pot. Add noodles, vegetables, and salt. Reduce heat and simmer on low flame until the veggies are soft (about a half hour). Stir in parsley, season to taste, and serve. Makes about 10 cups of soup.
Quick Chicken Soup
This one is great for those times when you really want soup and don't want to patchkey.
2 zucchini, coarsely chopped
1 medium onion, chopped
1 carrot, thinly sliced
2 cans chicken broth
1 1/2 c. cooked chopped chicken
2 c. water
1/2 tsp. hot sauce
1 tsp. dill
1/2 tsp. Italian seasoning
1/2 tsp. salt
Combine all ingredients in a large pot. Cook over medium-high heat until onions are tender. Reduce heat and simmer for a half hour, until veggies are soft.
Chicken and Brown Rice Soup
This hearty, meal-in-a-cup soup is borrowed from the Whole Foods website. The kale adds rich flavor and abundant nutrition.
8 c. chicken broth
1 medium onion, chopped
3 medium carrots, chopped
2 stalks celery, chopped
2 c. water
1 c. long grain brown rice
1 chicken breast, cut into1/2-inch cubes
1 bay leaf (If you don't have any, either leave out or try 1/4 tsp. thyme)
1/2 bag chopped kale or collard greens (properly checked)
Bring half cup of the broth to a simmer in a large pot. Add onion, carrots, and celery and cook for about 8 minutes, or until onion is translucent. Add remaining 7 1/2 cups broth, water, rice, chicken, and bay leaf. Bring to boil. Reduce heat to simmer, cover, and cook for 30 to 40 minutes, until rice is tender and chicken is fully cooked. Remove bay leaf and stir in kale. Continue cooking for about 5 minutes or until kale is wilted and tender.
Lauren Mirkin CNS, LDN, LCPC, NCC is a licensed nutritionist and professional counselor. Please contact her for information about her comprehensive integrative nutrition counseling services, mindful eating workshops and health and nutrition classes. She also provides psychotherapy for those struggling with eating disorders and disordered eating. She can be reached at 443-326-7023 or holisticnutritionhelp@gmail.com or holisticcounselinghelp@gmail.com.